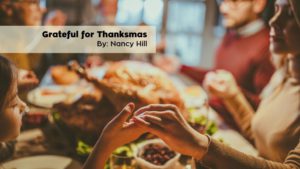 GRATEFUL for THANKSMAS
Thanksgiving is usually when every bed in our house is full as all the state-side kids
and Grands gather for Thanksmas, a holiday I created for our family. It all came about
when I realized I loved giving Christmas gifts to our family, but it made me sad that I
rarely saw anyone open their gifts on Christmas Day. So I began to brainstorm. H-mm-m-m, I thought, we are usually together at Thanksgiving, what if we opened our gifts
then? And so, the newly create holiday, Thanksmas, was born.
Armed with a very large burlap coffee sack, I brought out my colorful felt scraps and
created Tom, the Turkey, with his googly-eyes and his jaunty red Christmas hat. Next, I
lovingly attached the newly-made Tom near the opening of the burlap bag. Now, the
plan is when I wrap a present for a family member, I stuff it into Tom's bag. Then on
Thanksgiving morning after eating bacon and yummy Duffy's rolls and during the
Macy's Day Parade, the chanting begins: Gobble Gobble Ho-Ho, Gobble Gobble Ho!
To heat up the anticipation, I begin winding my way through the house with the bag
thrown over my shoulder. Soon the Grands have joined me in the holiday chant –
Gobble Gobble Ho-Ho, Gobble Gobble Ho! and we make our way downstairs. Finally
the bag comes to rest and is opened to the delight of all. Chaos rules.
But then things settle down, the turkey goes in the oven and comes out golden
brown. We have changed into our best clothes, we gather around the dining table and
say a grace, which is centered around our grateful hearts.
After the main course but before the pumpkin pie, I pass out the hand-stamped
gratitude cards and everyone takes the time to record what they are grateful for. The
list includes: family, friends, sunshine, snow, adventure, life, challenges, Wyoming,
snowboarding, pets, home, education, Thanksmas, tonight's dinner, tomorrow's
leftovers, sunrise, imagination, eggs Benedict, my health, God…
God knows that only when we are planted in the soil of gratitude will we learn to
grow and thrive. God made sure to include a call to thankfulness in scripture where it
says, "Rejoice always, pray without ceasing, give thanks in all circumstances, for the
will of God in Christ Jesus for you" (1Thessalonians 5:16-18, ESV). May you know
gratitude this Thanksgiving!
Nancy Hill