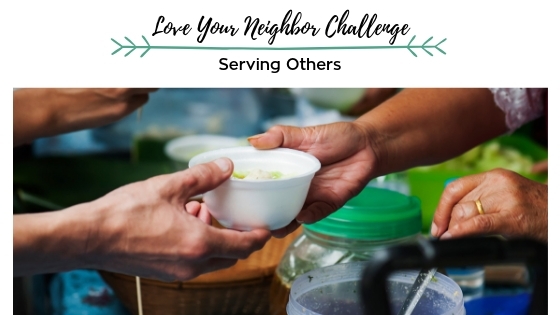 The Love Your Neighbor Challenge #10 is to read Matthew 25:31-46 about serving others.  Jesus says what it will be like with Him in glory when He is on His throne,
34 "Then the King will say to those on his right, 'Come, you who are blessed by my Father; take your inheritance, the kingdom prepared for you since the creation of the world. 35 For I was hungry and you gave me something to eat, I was thirsty and you gave me something to drink, I was a stranger and you invited me in, 36 I needed clothes and you clothed me, I was sick and you looked after me, I was in prison and you came to visit me.'  Matthew 25:34-36
Those who are blessed by the Father did many things to serve others.  They fed the hungry, gave the thirsty something to drink, invited in strangers (showed hospitality), clothed those in need, looked after the sick, and visited those in prison.  Here are some ways your family can do those things:
Feed the Hungry – Serve at Denver Rescue Mission as a family or donate food items to your local food bank.
Giving Someone a Drink – Give to a Wetsembekile Ministries who is providing safe water for people in eSwatini (formerly Swaziland) or hand out water bottles to a skate park nearby.
Show Hospitality – Invite a neighbor family over for dinner or take a shut some cookies for Valentine's Day.
Clothe Those in Need – Donate the clothes you no longer need to Goodwill or Salvation Army (or even buy some new clothes to donate!).
Look after the Sick – Write encouragement notes to the children at the Rocky Mountain Hospital for Children or color them pictures! 
Visit Those in Prison – Write letters to those who are being persecuted for their faith in a different part of the world. 
May you and your family be called blessed by King Jesus when you see Him face to face!
Choose one of the above serving suggestions and try to do it as a family by the end of February!