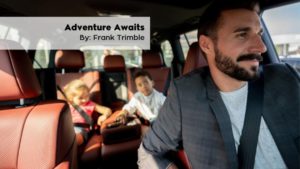 Over the last year, I've been able to travel to different churches and organizations in order to partner with them in ministry. While I can't say that traveling is my favorite activity, I can say that working with local churches is a blessing that I cherish. 
The only true negative to traveling is being away from my family. However, I've discovered the great joy of travailing with my family!
Years ago, a mentor of mine advised me to involve my kids in my day-to-day life. He said "Frank, just take them to do the things that you like to do." This was such a freeing piece of advice for me. This might be why my daughters love to go to Chipotle, coffee shops, guitar stores, and bookstores! This small suggestion is a part of what inspired me to involve my family in as many of my ministry opportunities as possible. 
We normally travel about once a month to be involved in a sister church's Sunday morning experience. I love having my wife and daughters with me in these new places. I love to worship alongside them in these contexts, and I love the idea of practically showing them a small part of what it means to live on mission. When school is out, I'm looking forward to taking my oldest with me to an out of state event. I've seen this modeled by others and really look forward to the adventures ahead with those closest to me. 
Your work may not require travel or your travel may not allow for a tag-along. However, I believe there are parts of all of your life that welcome the company of your spouse or one of your children. They may not be the biggest help right away but the memories you'll make and the lessons you'll teach will last a lifetime. 
For me, this is a part of what I call "As You Go Conversations" from Deut. 6:7. These conversations take place in the day-to-day rhythms of life. From the mundane to the thrilling, the opportunities for the discipleship of our children are endless. 
For my wife and I, bringing the kids with us to minister to and with other churches provides an opportunity to talk about the global church, church planting/replanting, and the importance of locking arms with like-minded sister churches. In a small but powerful moment our kids are given the opportunity to look outside of their own daily experience, and worship with other churches. 
Alone time is important for parents, so please don't hear me advocating for family involvement in all areas of your life. However, I believe God will show us areas in our lives where our kids can be involved, learn a skill that we've mastered, or simply learn what it looks like to treat the grocery store clerk with respect and kindness. 
When possible, don't carry your life ministry schedule alone. Some great memories are ready to be created while you have fun with those that God has entrusted to you. 
Frank Trimble