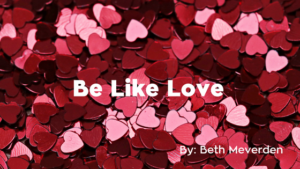 "As the Father has loved Me, so have I loved you. Now remain in My love." John 15:9
How do we remain in Jesus' love? If He IS Love (1 John 4:8), it means staying connected to Him.
Be with Him to Become like Him
The less time we spend with Him (learning about Him, talking to Him, thinking about Him, talking with others about Him, and preparing to be with Him), the less we're becoming like Him.
Remember when you went to school and your friend had the same shirt as you and you both said, "NO WAY?!?" Or maybe you watched some other children have this reaction from afar? Those situations happened because of like-mindedness. The more time we spend with people, the more we become like them… dress like them and talk like them.
Wouldn't it be awesome if you spent so much time with Jesus that your first response to your children about a question they asked was Scripture? Remaining in His love means we don't take it for granted. It means we keep His commands, ask forgiveness when we don't, and then get reconnected with Him as soon as we can. 
Forgive like Jesus
If you told one of your children to not play a specific video game and he immediately put that game in his console and started playing it, it would be an act of defiance, not love. If he looked up at you and said, "But I love you," your love for him may include a stern voice with some immediate consequences, including a media ban. Remaining in Jesus' love for you would be showing your son a hard "this-is-what-love-looks-like" lesson.
But when that same child, realizing he was on auto-pilot, took out the game, came to you, and confessed with a repentant heart that he played it even when you told him not to, that's an act of love. There's a big difference here. Your son still disobeyed but his changed and repentant heart showed an act of love. 
There can still be consequences but they should look different. Part of showing our children love and remaining in Jesus' love is showing grace and mercy as He does.
We've talked a lot about modeling in my blog devotionals lately. This is the kind of modeling that matters. Being like LOVE: exemplifying remaining in His love, forgiving, and showing mercy.
Being like Love, our Savior Jesus, to our children is the way they'll learn more about Him and become like Him, too!
What is a situation where you need to be like Love to your children today?