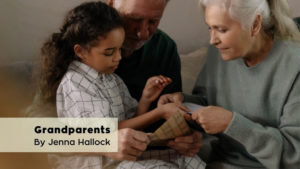 Helloooooo grandparents! We LOVE YOU! Family Time counts it a privilege to minister with you to see your grandchildren come to know God's Word and by His Spirit trust Jesus Christ as their Lord and Savior.
Today we're beginning a series based on a beautiful piece of artwork called "My Declaration." Created by Christian calligrapher Timothy Botts, our friends at Legacy Coalition have made this available on their website for purchase. We are so inspired by it's words that we are going to work through the poem line-by-line each month until it is complete. 
The declaration is based on Deuteronomy 4:9, "Only be careful, and watch yourselves closely so that you do not forget the things your eyes have seen or let them fade from your heart as long as you live. Teach them to your children and to their children after them." (NIV)
The first declaration is this: I will guide grandkids with grace.
I am not yet a grandparent, but I can speak to my experience with my own grandparents and the way I've seen my parents act toward their grandchildren. There is something so natural about showing grace to grandchildren. You love them unconditionally. You generally are not the primary caregiver and therefore play a different role in their lives. You want to encourage them and nurture them… spoil them some might say! 🙂
But grace is much more than being kind and loving when it comes to faith in Christ. Grace is undeserved favor. Grace is the incarnation of Jesus Christ. It is this grace that you want your grandchildren to know and to see in you. 
Naturally, all of your love, care and kindness toward your grandchildren will be a show of grace, but then it should follow that you are truly GUIDING them in the ways of the Lord and pointing to His perfect grace.
How can you make grace-filled living a purposeful part of your grandparenting?