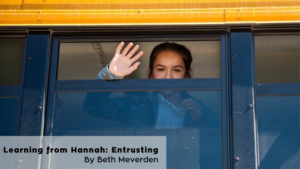 By this time, you have likely entrusted your children to teachers to begin the new school year and are a couple weeks into your new routine.
Let's think about Hannah and her courageous step of entrusting her son into God's hands. She made the commitment that if God gave her a child, she would dedicate the child to Him and the child would live at the temple and serve God always.
Until now, I have not stopped to consider Elkanah, her husband. The wife he loved and favored, Hannah, longed, waited, and prayed for a child. She was unhappy without one and then when she finally had her prayer answered, she decided to give the child away. He must have been a very patient man.
Think of the trust Elkanah had in God and in his wife to let her surrender the permanent care of their child to someone else. What courage and trust!
Hannah kept Samuel home with her as long as she thought was best for him then entrusted him into Eli's care and training. She eventually had five more children, but she never forgot Samuel. She made a new robe for Samuel and took it to him each year when their family offered their sacrifice at the temple.
I can't imagine living apart from any of my children and entrusting them to others to raise them. I know God would give me any strength I needed, but dropping them off at school each day is hard enough!
One thing I do, as I entrust my children's education and training to others, is pray for their teachers, support staff, and administration. I have my children pray with me for them. I share with them which teachers and administration they can for prayer from and who to seek extra support from.
"And the Lord was gracious to Hannah; she gave birth to three sons and two daughters. Meanwhile, the boy Samuel grew up in the presence of the Lord." 1 Samuel 2:21
I pray that EACH of our children will grow up in the presence of the Lord because of being with us, His temple. I pray that those to whom we entrust our children will be worthy of that trust and love and train them with God's guidance and love!
Who have you entrusted your children's training to? Take a few moments and pray for those people to have wisdom, discernment, and guidance from God.