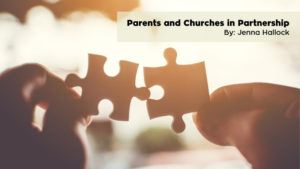 When you think of partnership what comes to mind? Maybe you immediately think of your partner in business, your "partner in crime" or your tennis partner. Stop a minute a think: are you someone who values equal partnership in relationships? 
Last month, we highlighted the topic of partnership in each of our Family Time Tuesday videos. If you haven't seen them, I hope you'll go take a look at these short, encouraging videos to help you think about partnership in the context of raising our children in the ways of the Lord. In particular, we explore how the local church, parents and grandparents can partner with the work of the Holy Spirit to see our kids know and love Jesus Christ.
Today I want to briefly share 5 keys to this partnership that I hope will inspire you to pursue this important relationship with those around you who have the same passion and focus as you do: to see a generation raised up for Christ!
Key #1: Communication. 
Parents/grandparents and church leaders absolutely must be communicating with one another. This could be face-to-face casual conversations, which are absolutely necessary, but it also includes strategic meetings about what is happening in the church, what is happening in the home, and how the context in which our kids are living effects their spiritual growth.
Key #2: Planning.
I couldn't even get past #1 without mentioning this – we need a plan. Whether kids are toddlers or teens, we need a plan to help them grow in their Biblical understanding and worldview. What do we want our kids to experience in the church building and at home to lay a foundation of Bible literacy? What mission opportunities do we want them to have before they graduate from high school? Do we want to focus on Bible memorization? Prayer? Evangelism? By God's grace, we can form a plan to guide our children in the faith.
Key #3: Accountability.
We all need accountability in our lives for myriad reasons. Whether it's knowing we have a book club meeting to spur us on to finish those final chapters, a doctor's appointment when we'll be asked if we've been eating our green vegetables, a friend to walk with us each Saturday morning, or the routine of corporate worship each weekend, having someone to whom we are accountable is a great asset and a gift from the Lord. Leaders, survey your families formally and informally to see how the plan is working. Create events to re-cast the vision for home discipleship. Parents, find another family and do Family Time together!
Key #4: Share resources.
Leaders, this is usually seen as your job – find a curriculum and push it out to families. This is still critical! But parents, you might have found a great book, music resource, or local event that your pastor hasn't heard of. Be sure to pass these resources along when you find them.
Key #5: Pray with and for one another and your children.
Partnerships that are built on prayer will last. You will give each other more grace. You will keep your mission in laser focus. You will bless your children, your homes, and your church. God will be glorified! Keeping everything in prayer is a sure way to see success as you seek to be obedient to God's call to pass the faith to the next generation!