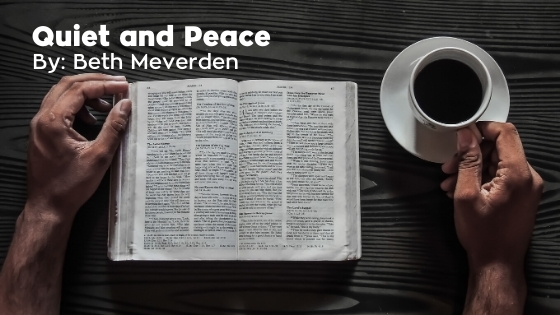 I have heard some over-tired, overwhelmed mamas say they "just want peace" in their home. Often what these mamas really want is quiet. Children make sounds all day long. There are sounds that little ones make that adults don't. Humming, blowing raspberries, gun sounds shooting bad guys, clicking, popping, and squeals of joy at every new thing that delights them.
I think we grow out of a lot of the happy sounds because some big people, often over stressed, self-focused people just want quiet so they require all the sounds to stop instead of finding peace in the midst of the noise. Now, please understand that I value quiet. I am at a point in my life when I often drive without the radio on when I am alone in the car in order to think clearly and to pray. I love music. I love happy kid sounds. But quiet can be soothing and it is necessary at least occasionally for people to function at their full capacity as created beings.
Sometimes quiet times lead to peace. Why do you think in Christian culture we call our times with God "Quiet Time?" It's like a mini retreat to be with God each day, a momentary spiritual revival meant to give us the strength and energy to get us through to our next time of quiet with Him… daily bread. We step away from the constant needs of our children and work before us. We step away from the sound and the noise and we listen to Him. We listen to Him through reading His Word. In doing this we inhale His breath of life. Then we exhale all of our rustrations, questions, desires for wisdom through praying to Him, trusting Him with every mistake, irritation, and joy we experience.
These times of quiet lead to peace in our home because God creates peace for our families through our quietness before Him. When we have quieted our hearts and minds before the Lord, He gives us His peace. God's peace can be like a bubble around us making us unaffected by the irritating and constant sounds that can otherwise drive us to distraction and irritation. The Christmas season question is: will you bring your children into that bubble with you and cover them with God's peace or will you let the jingle bells and drummers drumming turn you into the Grinch at the top of the mountain cringing at every sound… even the happy ones?
Do not be anxious about anything, but in every situation, by prayer and petition, with thanksgiving,
present your requests to God.  7  And the peace of God, which transcends all understanding, will guard
your hearts and your minds in Christ Jesus. Philippians 4:6-7
When your children look back on this Christmas will they remember being told to be quiet all the time
or a parent who celebrates their carols, squeals, and giggles because of the peace in his/her heart?