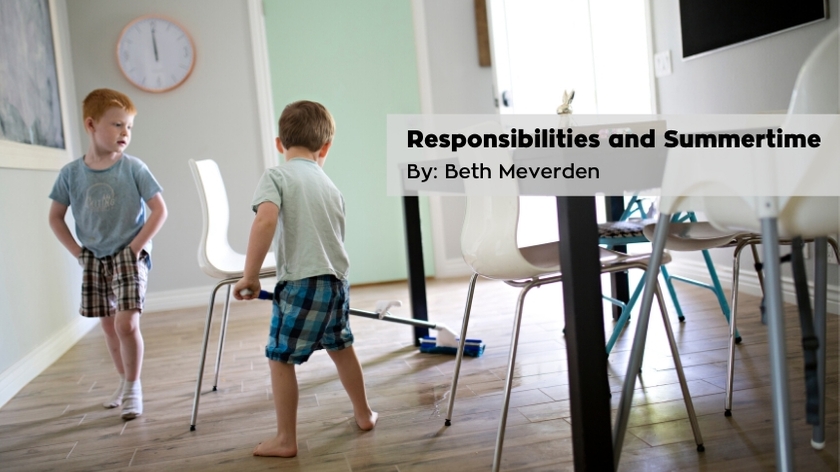 Our world has been in such a flux with the stay-at-home order melting into the safer-at-home order and especially flowing from school at home to no school at home. We realized early on that our children needed a schedule to know what to expect and also fluidity and adaptability of the schedule, realizing that it needed to work for our family not the schedule controlling our family.
That is the same approach we need during summer break. Children need play and relaxation time to recharge their brains and bodies and get them excited about school again. They also need to
understand that dishes need to be done, clothes need to be washed, toys need to be put away, and
other things must be done to keep the household running and peaceful.
If your children have never had a responsibilities list, now's the time to get that going! There are great resources all over the internet about age appropriate chores and responsibilities. I came up with a list of all the things I need to get done in our home and then gave our children age appropriate responsibilities to help those things get accomplished each day. There are personal things on the list like practicing his/her instrument and exercising. There are household expectations like watering their part of the garden, setting or clearing the table and filling or emptying the dishwasher. The children know that if their clothes aren't put away by a certain time, they don't get screen time until that job is completed. In preparing to give our oldest children their first responsibilities lists, I typed out Mama's responsibilities list. I was convinced I'd have to pull it out to give them some perspective about what I do compared to what they were expected to do. I don't think I ever had to read it aloud. I simply showed them the difference of my list's length compared to theirs and they were grateful. When children think they are the only ones doing work around the house, they can become resentful, but if they see you working alongside them or getting responsibilities done when they don't have to, there is good perspective and it can produce grateful hearts.
It's fun to be with our children. Teaching them about household responsibilities is part of training them to be an adult who honors God in his or her home. You can talk about why God has given us each of these responsibilities as you are training your children to do it. Summertime is the perfect training ground for that kind of togetherness and practicing to be a grown-up in a safe and empowering environment.
By wisdom a house is built, and through understanding it is established;
through knowledge its rooms are filled with rare and beautiful treasures. Proverbs 24:3-4
Take some time to thank God for this time to train your children to take care of their home.