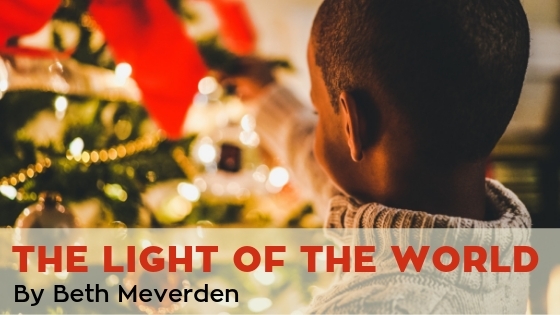 One of my favorite things to do as a child with my mom was to sit in the dark living room and look at the Christmas tree with our glasses off! We would talk about all the colors blending together and how pretty the lights were in the darkness. Sometimes that's what Christmas feels like… a blur of pretty lights. Though any light illuminates the darkness, there is One Light that eliminates the darkness in our lives and in our world.
As the Light of the World, Jesus didn't come to just to give us a pretty view in the dark world surrounding us. He came like a spotlight to point us to the Father and like a floodlight to show us the Father working all around us. He is our Lighthouse warning us of dangers and giving us hope that we are not out there on our own. He gives us the stoplight of His Holy Spirit to guide us in when we should stop, slow down or go forward on the road ahead of us. He is sometimes a street light revealing what is ahead and beside us to guide us safely to our next destination. And, oftentimes, He is a flashlight showing us only what we need to see to help us take the next few steps. When we have emotional and spiritual power outages, He is the tiny candle that lights the room to let us know we are safe and the fire in the fireplace that warms the entire house.
This time of year, Jesus is represented in each and every light that laces our Christmas trees, our homes, and throughout our towns. He is the bright Morning Star that tops thousands of trees all over the world. The star that lead the wisemen to Bethlehem shown brightly over Him and represented the light He was bringing into the world. That same Light shines from Him through us as the hope for each person God has placed in our lives. We are Light bearers and we get to decide how much of His light we let shine through us this Christmas and this year. When people look at His light in us… is it just a blurred seasonal decoration or is it a Lighthouse bringing others hope in any weather and through any storm or season?
"I, Jesus, have sent my angel to give you this testimony for the churches. I am the Root and the Offspring of David, and the bright Morning Star." Revelation 22:16
How can you let Jesus shine more brightly through you this Christmas and throughout the next year?