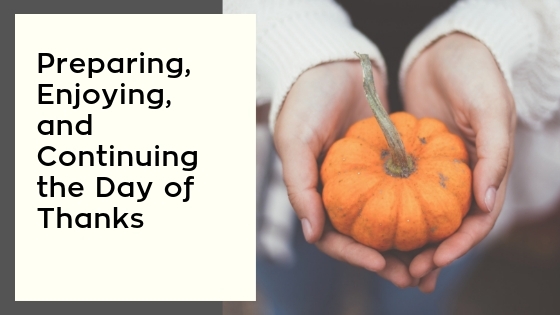 This is the perfect time of year to count our blessings and have a dedicated time of thanks for those blessings. We can be intentional about conversations that spur on grateful hearts and do practical acts that say thanks in a special way.
Preparing for the Day of Thanks
A friend of mine spends the week of Thanksgiving doing service projects with her children for different people in town. She has taken them to give a thank you note and donuts to the local fire department, made blessing bags for the homeless, and created "You are Loved" cards for residents in a Nursing Home. She invites her friends with children to join her family, as well.
Enjoying the Day of Thanks
When our children were young, my cousin would prepare a craft for our little ones to do together between lunch and dinner. It was something easy for them to do and connected them through a shared experience. We sat and did the craft together and talked about what God was doing in our lives or even just what the kids were enjoying in school. It was a special memory making time that gave us the gift of a take home reminder of our extended family time together! What a perfect time to introduce a planned Family Time activity together, as well.
Continuing the Day of Thanks
Often after our annual thanksgiving stuffing and nap, we drift from being focused on the thanks and to being more focused on the giving (or the getting as the case may be). Some ideas for keeping gratefulness central in your children's lives are to write thank you notes to your Thanksgiving host, to give hand warmers to the cross guards at your children's school with THANK YOU written on them, and to train your children to say "Thank you for serving us" to grocery clerks and restaurant servers especially during the holidays.
Praise the LORD! Give thanks to the LORD, for he is good! His faithful love endures forever. Psalm 106:1
How does your family practice thankfulness beyond the Thanksgiving table?