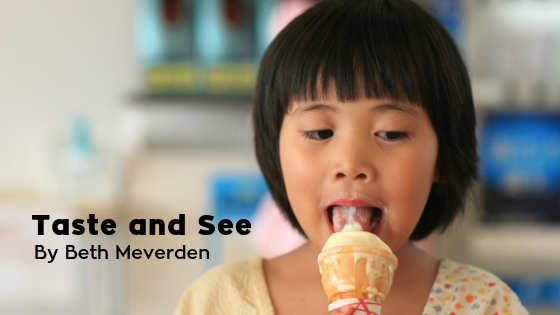 Spend some time in the kitchen tasting summer foods together and being grateful for all the ways God provides for your family.  Here are a few fun taste testing ideas to try with your family:
Act of Food Service
Have each person write down a meal that they would enjoy eating for dinner (main course, side dish, and dessert).  Mix up the cards and have each family member choose one card.  They will be working together with the person who requested the meal to make that meal for the family as an act of service and teamwork.  They need to work together to find recipes for each course requested and to come up with a shopping list.  Then they will work with the calendar keeper to set a date to make that meal for the rest of the family.  (Parental supervision may be required for each meal cooked.)
Frozen or Cooled?
Work together to do some scientific research on how different fruits freeze and how it changes their taste and flavor.  Cut up enough pieces of banana, strawberries, grapes, and a watermelon (or other fruits your family enjoys) for each person in your family.  Then freeze half of the pieces.  Put the other half in the fridge.  When the pieces are frozen, take them out of the freezer and have each person try the frozen and cooled pieces.  Have everyone answer these questions after trying each fruit frozen and cooled:
How did the texture of the fruit change when it was frozen?
Did the flavor change when the fruit was frozen?
Which piece do you like better? Frozen or Cooled
Popsicle Experiments
Use a popsicle mold or plastic bags that zip to create homemade popsicles.  You can add different kinds of fruit to fruit juice, lemonade or water to create your own personalized popsicles.  Then share the popsicles with the rest of the family or someone in your neighborhood you've been meaning to connect with!
Summer Recipe Challenge
Split your family into teams and challenge each team to come up with a recipe that can only be made with food eaten during the summertime.  Give each team time to make/cook their recipe then share it with the rest of the family.  Have each person of the opposite team share what they enjoyed about the recipe.
"Taste and see that the Lord is good; blessed is the one who takes refuge in him."  Psalm 34:8
What are ways you use food to connect with your family?