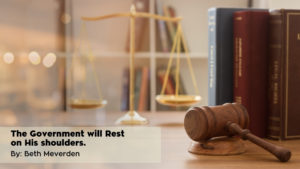 Family Time Training just released an advent study called "Come and See." It's a fun four-week
family activities series based on Isaiah 9:6. If you haven't picked it up for your family, it's not
too late! You can get buy it here!
Isaiah 9:6 says,
For a child is born to us,
a son is given to us.
The government will rest on his shoulders.
And he will be called:
Wonderful Counselor, Mighty God,
Everlasting Father, Prince of Peace.
Each of the weeks of the "Come and See" study is based on the names of Jesus we read. It's
powerful to think about who Jesus is as we celebrate His birth. It is also inspiring and peace
giving to think about what will happen because of who He is.
The truth that sticks out to me as the dust is beginning to settle after the presidential election is
"The government will rest on His shoulders."
This verse rings the same tone as Matthew 11:28-30:
Then Jesus said, "Come to me, all of you who are weary and carry heavy burdens, and
I will give you rest.    Take my yoke upon you. Let me teach you, because I am humble
and gentle at heart, and you will find rest for your souls. For my yoke is easy to bear,
and the burden I give you is light."
The yoke mentioned here is a term for teaching. Jesus' yoke (His teaching) is light and
easy because He carries all the weight. We are like a young ox yoked with a stronger ox
who is actually bearing all the weight, so the "work" is easier for us. As a matter of fact,
the work has already been done.
As Americans we carry our government in that we vote for our leaders and we trust
them to lead us and make wise decisions. Some of us are weary as the election is
finally over. The reality in the midst of this crazy season remains; God is the One who
appoints those who govern and we can trust HIM to lead us (no matter who the leaders
are, no matter the decisions they make or avoid).
Jesus truly does carry the government, our safety, protection, the truth of His teaching,
and all of creation on His shoulders. This is true now and it is true for our future.
The Government will Rest on His shoulders. 11.2020
Sit back and take a deep breath as you let this sink in. We don't have to worry. We can
give Jesus whatever is making us weary – our heavy burdens, our fears, our
expectations, and confusion. He has done the work, is doing the work, and He will
continue to do the work. So, find rest for your soul in Him this Christmas season. He's
got this.
Pray for God to help you create a place of rest and peace in your home this Christmas season. Ask Him to remind you to sit back and trust Him when you need it.