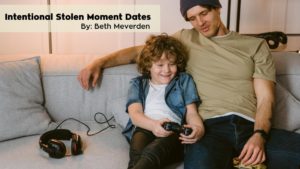 Lately, my usual intentional spiritual training times have looked very different than even six months ago. I still work on AWANAs verses and pray for classmates with my youngest each day. I pray with my older kids for a specific teacher each day we ride together. But honestly, each morning is different right now and that means I need to flex my expectations for what our times look like each day.
No matter what the season looks like, spiritual training must be intentional. 
Each of my children is in a different stage of spiritual (and social) development, so I have to seek each of them out to talk about what they're learning and being challenged by.
Some of those conversations happen on Intentional Stolen Moment Dates. What's an Intentional Stolen Moment Date? 
They are spontaneous dates that happen when I get to be alone with one kid at a time. Here are some of the ways to make intentional time with different ages of children.
Elementary-age children:

Make as much time to cuddle as you can, talk about anything that interests your child and connect it to spiritual matters. Go on walks and bike rides, decorate for holidays together, teach your child how to clean specific areas of the house, and do creative projects together.

Middle School-age children:

Watch whatever they're interested in together and then make time to discuss the show when it's done. Listen to what they're streaming (look at Spotify and Apple Music playlists) and talk about the messages in the lyrics. Take your child to eat fun places they like and talk on the way or to save money make copycat meals with them from their favorite restaurants and talk about what you're reading in the Bible as you cook. You can also listen to a podcast as you cook together (

FamTime Podcast

is a great one!).

High School-age children:

Fold clothes together and talk as you catch up on your child's life. Run errands together preparing for that next big event and pray for the event together. Do a little Book Club together, reading a required book for a class then talking about the messages from the book. Encourage your child to read and study some more in-depth books of the Bible and meet to talk about them like a mentoring Bible study. 
Being confident of this, that he who began a good work in you will carry it on to completion until the day of Christ Jesus. Philippians 1:6
What activity can you do with each of your children this week to have an Intentional Stolen Moment Date?